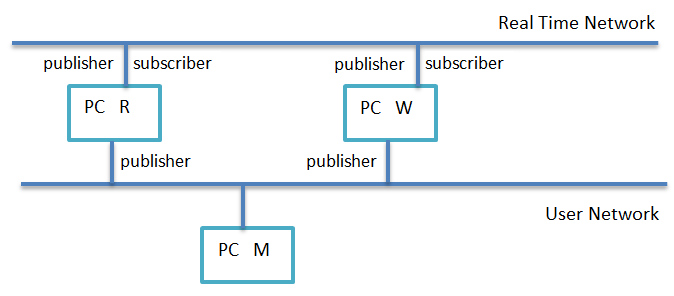 Hi Folks,
I am having hard time with publishing through multiple networks. The image above kind of diplays the picture of the networks and PCs in the networks. Next to each PC I stated whether it is a publisher and/or subscriber. The brief intrudaction of my issue is the following.
The PC W publishes some data over the Real Time Network (RTN hereafter). The PC R as a subscriber receives those packages over the RTN. The PC W has two network cards and in the QoS file I have in the allow interfaces list both addresses: PC R and PC M. So I suppose that PC M should also receive the published data, but it does not. Whereas the PC R is publishing other data over the User Network (UN hereafter) and PC M receives that data over the UN. I just cannot understand why the data published by the PC W, which supposed to be published into both networks (RTN and UN) is available to the PC R but not to the PC M.
I have also tried multicast option, tried allow interfaces lists, tried having no filtering in the QoS for the addresses, b ut nothing helped. I believe there is a way to activate publication through multiple networks.
One more thing to be mentioned, even if I have in my allow interfaces list only the addresses from the UN network anyway I don't receive anything on that network. It seems like PC W doesn't publish through the UN network, only through the RTN.
And another short question would be if we need to assign different domain IDs for different neetworks, or perhaps we can use the same domain ID for all participants for all networks?
Any ideas, any help, please.
Thanks a lot,
Tiger