I'm having trouble with the following topic

// Buffering data generated at 6 kHz, sending the buffer every 100 ms, expect 600 samples in the buffer
typedef sequence<double,650> BpDataSeq;

// This structure was created using a set of arrays to address story EBJH-1326
struct BPData {
BpDataSeq m_irmsBuffer;
BpDataSeq m_vrmsBuffer;
BpDataSeq m_pavgBuffer;
BpDataSeq m_zmagBuffer;
};
The LabVIEW Data type is attached, and I am initializing the array before passing it to the creation function.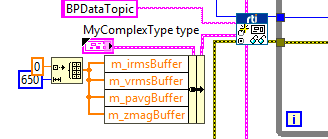 The developers created a topic publisher for me to debug with. I'm getting a full match on the match graph. The sequence is showing up with the correct amount of elements (the test publisher only has 1 incrementing number). However, the value of the first element is always 0 in LabVIEW.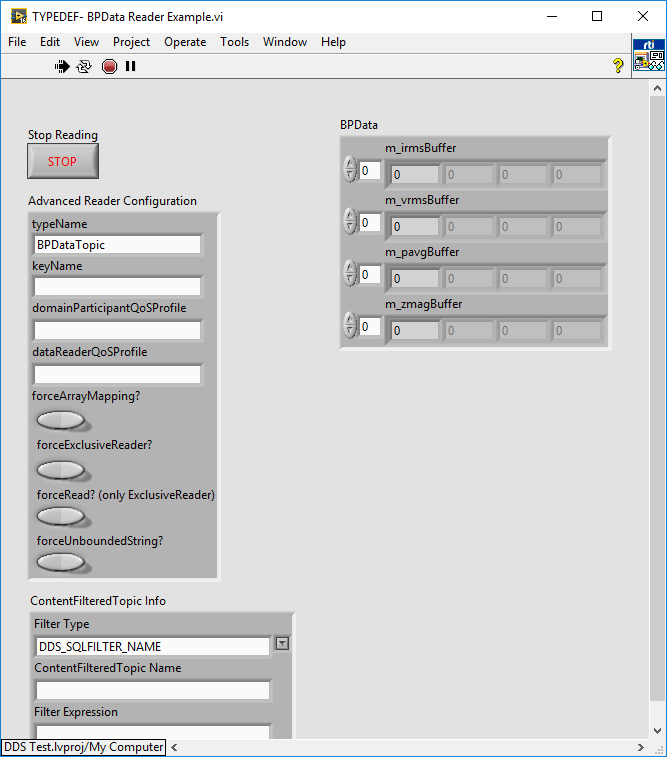 I can subscribe to this topic in the admin console and see the rolling counters in these sequences, so the data is there, just not getting through the DLL/LabVIEW.