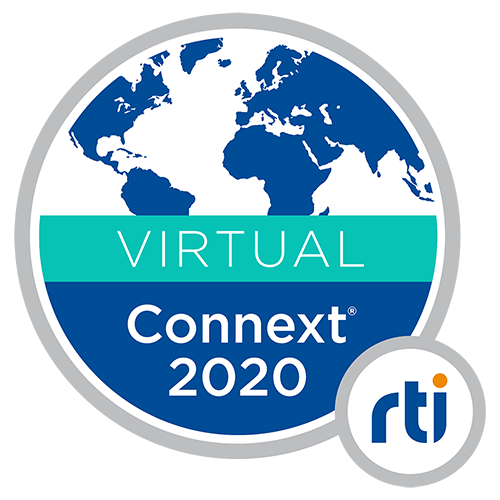 Hi everyone!
A massive thank you to all those who attended RTI's first Virtual and Worldwide Connext Conference!
We're so grateful that we were able to experience this brand new virtual format of our ConnextCon with you. We always welcome and appreciate your feedback about the product and look forward to hosting many more great conferences in the future!
Below, you'll find a list of the presentations from both conferences: US/Americas and EMEA/APAC. If you're looking for a presentation that's not currently linked, don't worry! Links will be added as the content becomes available for sharing.
Regards,
Sarah Holloway & Susana Perez - Marketing Events team
RTI PRESENTATIONS
Realizing Promise of Autonomy, Together -Stan Schneider, CEO, RTI


Technical Vision - The Edge Autonomy Era - Gerardo Pardo-Castellote, CTO, RTI


(Track 1) How Data Centricity Is Driving State-of-the-Art Electric and Autonomous Vehicles - Bob Leigh, Senior Market Development Director, Commercial, RTI and Pedro Lopez Estepa, Market Development Director, Automotive, RTI


(Track 2) Securing Multi-Domain Data-in-Motion in Complex Systems- Chip Downing, Senior Market Development Director, Aerospace & Defense, RTI and Paul Tingey, Senior Field Application Engineer, RTI


RTI Professional Services: Expertise to Accelerate Success - Sumeet Shendrikar, Services Director, RTI and Juanjo Martin, Services Director, RTI


Robot Operating System (ROS) Breakout Session - Andrea Sorbini


(Track 1) Technical Deep Dive: Product Advancements for Scaling Industrial Systems - Erin McManus, Principal Software Engineer, RTI and Fernando Crespo, Principal Software Architect, RTI


(Track 2) "Inside DDS": Introduction to Connext DDS - David Seltz, Lead Field Application Engineer, RTI, Tim McGuire, Senior Field Application Engineer, RTI, Sara Granados, Principal Field Application Engineer, RTI & Thijs Brouwer, Field Application Engineer, RTI


From Design to Deployment with RTI Tools - Ken Brophy, Principal Software Engineer & Tools Lead, RTI


GUEST SPEAKER PRESENTATIONS