This is a follow up on a question posted in the general section. (http://community.rti.com/forum-topic/it-possible-rti-routing-service-raspberry-pi)
We are trying to use the RTI Routing Service in a setup like the one described in the picture below (picture created by Gerardo Pardo):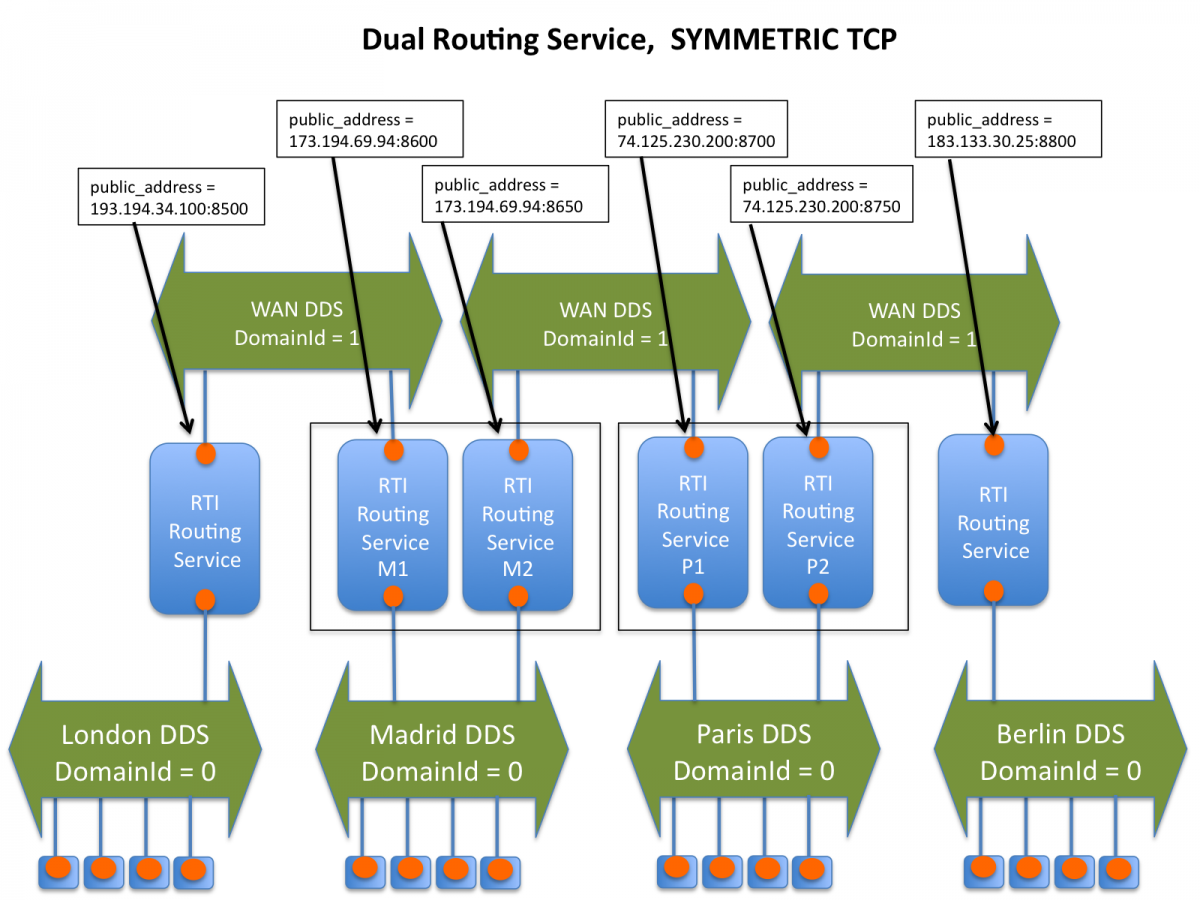 But we are having difficulty getting the setup to work. The setup (for London, Madrid and Paris) is described below.
With this setup, we can post topics in London and subscribe to these topics in Madrid but not in Paris. So our question is: can you see what we need in our setup, to publish a topic in London that can be seen (subscribed to) in Paris?
Best Regards
Lars
We are using the setup
PC1 (eq: London):
We modify the following in the file: ./example/shapes/tcp_transport.xml to:
<name>dds.transport.TCPv4.tcp1.public_address</name>
<value>173.194.34.100:8500</value>
</element>
<element>
<name>
dds.transport.TCPv4.tcp1.server_bind_port
</name>
<value>8500</value>
</element>
And we start the Routing Service using the following commands (in Windows)
set NDDS_DISCOVERY_PEERS=tcpv4_wan://173.194.69.94:8600
scripts\rtiroutingservice -cfgFile example/shapes/tcp_transport.xml -cfgName TCP_1
PC2 (eq: Madrid):
We modify the following in the file: ./example/shapes/tcp_transport.xml to:
<domain_route name="DR_UDPLAN_TCPWAN">
...
<participant_2>
<name>dds.transport.TCPv4.tcp1.public_address</name>
<value>173.194.69.94:8600</value>
</element>
<element>
<name>dds.transport.TCPv4.tcp1.server_bind_port</name>
<value>8600</value>
</element>
</participant_2>
</domain_route>
<domain_route name="DR_UDPLAN_TCPWAN_2">
...
<participant_2>
<name>dds.transport.TCPv4.tcp1.public_address</name>
<value>173.194.69.94:8650</value>
</element>
<element>
<name>dds.transport.TCPv4.tcp1.server_bind_port</name>
<value>8650</value>
</element>
</participant_2>
</domain_route>
And we start the Routing Service using the following commands (in Windows)
set NDDS_DISCOVERY_PEERS=tcpv4_wan://173.194.34.100:8500, tcpv4_wan://74.125.230.200:8700
scripts\rtiroutingservice -cfgFile example/shapes/tcp_transport.xml -cfgName TCP_1
PC3 (eq: Paris):
We modify the following in the file: ./example/shapes/tcp_transport.xml to:
<name>dds.transport.TCPv4.tcp1.public_address</name>
<value>74.125.230.200:8700</value>
</element>
<element>
<name>
dds.transport.TCPv4.tcp1.server_bind_port
</name>
<value>8700</value>
</element>
And we start the Routing Service using the following commands (in Linux)
setenv NDDS_DISCOVERY_PEERS=tcpv4_wan://173.194.69.94:8650
scripts\rtiroutingservice -cfgFile example/shapes/tcp_transport.xml -cfgName TCP_1
Organization: